IH674 Is Up and Running!
Our "new" International Harvester (IH) 674 diesel tractor arrived late in the afternoon on Monday, April 11th. It was a cool, rainy day…I know, a shocker for Spring in Pennsylvania.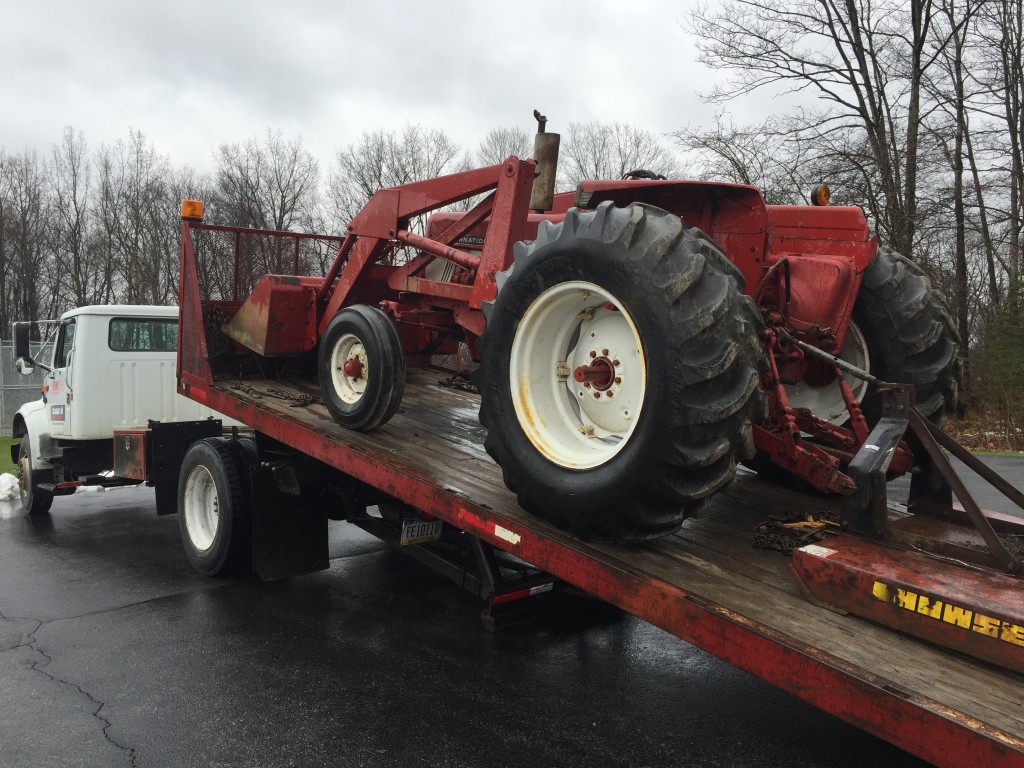 Bill, the driver that picked up the 674 from our good friend George Schettler's place many months ago, was the same fella who dropped it off. It started right up and he backed it up off the flatbed. We went over a few of the particulars…well as many as he knew…of operating the tractor (starting/stopping, transmission and clutch, PTO and bucket operation, etc)…and away he went and I suddenly felt this overwhelming feeling of "Oh shiitake…much to learn!"
It's one thing properly know how to operate a tractor, it's another to know how to keep it in tip top shape. The operation of the tractor I'll learn more deeply over time by…well simply using it in safe and proper manner. The upkeep…well now, this is a bigger tractor than I've ever worked with. I knew that I'd be searching for Votech classes on tractor and diesel engine repair. I don't need to be the expert, but I sure want to know how to diagnose and fix the vast majority of the issues we may find ourselves facing with this machine.
We could quickly tell it wouldn't fit in the barn with the brush hog on at present, so I positioned it in the driveway where I could detach the mower. Just the tractor down, parking break on…disconnected the 3 point hitch while finding one of the pins securing it wasn't a locking pin as it should've been, just a bolt. That didn't please me quite so much – if you have a tractor this long and essentially are doing an overhaul, let's not forget the "fit and finish"!
Anyway, got the mower of and went to restart the tractor…nothing…no click, no turnover, nada. I check some of the standard connections and all looks in place. Check the battery terminals and notice again, not what I'd expect to see on a tractor that's been at the dealer for months. A new battery for sure, but the battery terminals I'm certain were the ones that came with the tractor and they looked corroded and not greased. So I place a call to the dealer…speak with the owner…he believes something jiggled loose on the trip up. Oh, also forgot to mention only 1 of the 4 lights works…again, he attributes to the trip up.
So, I cover it with a tarp as of course it's pouring at this point and give a call to our neighbor down the road…he works on John Deere commercial tractors for a living and has offered to help in instances like these. I leave word with his wife if he could stop out after his shift…and long story short, Denny arrives does a bit more firm jiggling of the battery cables, we jump it and tada…running again!
Cut to this past Sunday when I was up, I'd parked the tractor under the barn porch last week as we still didn't have quite enough room cleared inside. I go to start it again and…NADA!! Now I'm torqued as this is something that shouldn't be happening to a tractor that just came from the dealer. Also there was a small amount of fluid leaking underneath it…bad enough about the leak but also bad as now I have to clean the stain as it's on the porch floor where we all sit for dinners and visiting.
I run out to tractor supply and no larger terminals…shocker. I was so focused on going there I neglected to realize I passed both a NAPA and AutoZone, both of which would also have the heavier duty terminals. No worries…I did find the felt battery post pads I was looking for (help prevent corrosion) and figured I could just wire brush the existing terminals. Again, long story short…I got them all cleaned up and a little more jiggling and…VROOOM…fired back up again. I took it for an extended spin up in the field to the new hopyard. I wanted to see how it felt riding over the fields where it'd be used all the time…did quite well. I didn't want to get too crazy about riding it over the lower field where we simply mow grass as I knew with the weight it'd leave some indents…sure enough it did…which is why I'm clearing out the "Old Keystone Road" so we can run it up and down there to access the fields.
A high school buddy, Bridget (O'Donnell) Healy swung out with her daughter and dog Elvis for a quick visit. They were on their way back to Pittsburgh after a visit with her husband Sean's family. We had a great chat, got to show her around…and Elvis got to scamper! On my way out of town, had a stellar dinner with my in-laws which is always a great thing and doesn't happen enough.