Cleaning Up The High Tunnel
The snows have finally melted and the hopyard has emerged!
Today was some tidying up of the beds…weeding, trimming, etc…but more importantly moving and stacking sections of our former high tunnel that collapsed almost 3 years ago due to an early January ice storm. What took us almost 4 months of work was gone in about 30 minutes…such is Farming life!
I sorted through all the various lengths and thicknesses of pipe and began to pile them in their respective areas, hopefully making it easier for the metals recycler when they arrive at some point later this Spring. Uber sad for sure to think how much work my father-in-law and I, and my Father and brothers, put into this thing over the course of many weekends a few short years ago. Thankfully our insurance covered the loss and we could pay back the EQIP grant we got…I guess that was the silver lining, it also I'm certain gave me a taste for the wide variety of ups and downs we'll see over our years at the Farm.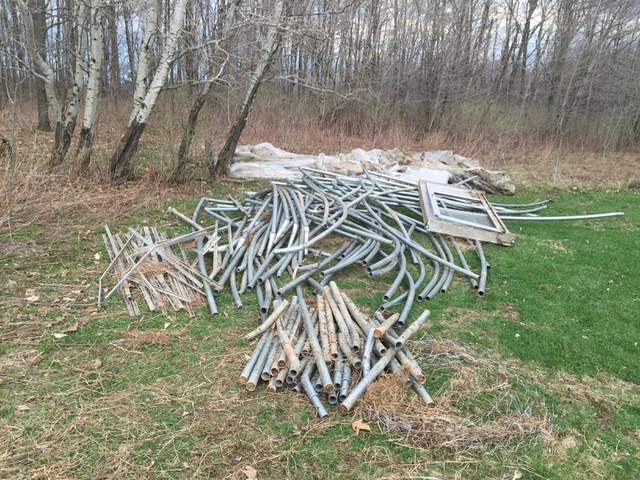 Once that work was completed, I was able to tend to the hopyard and do some light weeding and bed prep for the upcoming season. Shoots are already up and about so those are trimmed ("crowned") back to encourage healthier growth.